Start your day by running on the 1.6 km Lakeside Walk while breathing in the fresh air around the serene creek view and large green area or invite your closest friends to have a Barbeque Party on the weekend with a view of the lake. Take a break on your holiday by going fishing in the middle of the 26 hectares of the natural lake with the boats provided at the Boat Dock. Here are some pictures that you will get if you live at the "Lake Series" Shila at Sawangan which complete with 30 exclusive facilities.
Other than enjoying the scenery, Lake Series offers a variety of activities, such as exercise in the Outdoor Gym area, Fitness Corner, and Yoga Deck. For tennis and golf lovers, there are several exclusive sports facilities, such as the Sunken Sports Court which is designed to be lower than street level, so it gives you privacy, as well as the Putting Green (mini golf) is also on the edge of the lake. There are also many other exclusive facilities in Lake Series.
Director of PT Pakuan Tbk Denny Asalim explained, "We hope that the presence of these various exclusive facilities can provide comfort and a better quality of life at every age level. The Lake Series supports the realization of a healthy life, warm social interactions, and fun activities for its residents,"
"Our main focus is to provide extra comfort for residents, including ensuring and maintaining the highest quality facilities in the Lake Series. We believe the Lake Series will meet the needs of a modern lifestyle where you and your beloved family can experience a premium lakeside living," said Kenji Ono as the President Director of PT Diamond Development Sawangan.
Lake Series will be an iconic lakeside residence in Southern Jakarta. The Lake Series offers 5 types of products at once in Lake Vista and Laguna clusters, each with a lake view. Lake Vista cluster consists of Portico, Tudor, and Pavilion types of unit. While, Laguna cluster consists of 2 types of unit, namely Veranda and Mondrian.
Portico Lake Series
Portico is an exclusive type of only 39 units that has direct access to the lakeside from the backyard.This
three-story house has 4 bedrooms, 4 bathrooms, and 2 carports equipped with a rooftop area which is suitable as a place to gather and relax with family.
Tudor
Tudor is a type with premium specification that is uniquely designed like a villa as the access goes directly to the 2nd floor. It has 3 floors, in which there are 4 bedrooms, 4 bathrooms, 2 carports, 2 living rooms, as well as a large outdoor area in the backyard of the house, making the house spacious and magnificent.
Pavilion
Pavilion is a minimalist home with 4 bedrooms, 3 bathrooms, and 2 carports. This type is equipped with premium finishing so it creates the impression of a luxury home. This type of house has a green architecture concept and has an open empty space (void) in the form of an inner courtyard for fresh air circulation and natural lighting.
Veranda
Veranda is one of unit type in the Laguna cluster. It has 3 bedrooms, 3 bathrooms, 2 carports, and a rooftop area to enjoy the beautiful view from inside the house. This house also has indoor and outdoor living spaces with natural elements that can support your healthy lifestyle.
Mondrian
Mondrian has a unique design because it has a 4 Meter Length Panoramic View, a beautiful natural panorama that can be seen and felt from inside the room, making the house look wider and blend with nature. This house has 3 bedrooms, 3 bathrooms, and a 2 carport. It also has a 5 Meter Ceiling Height, making it a great space to relax.
These two clusters will soon open their show units in November 2022 at Shila at Sawangan. Don't miss the chance to get your dream home at the "Lake Series" Shila at Sawangan.
About Shila at Sawangan
Shila at Sawangan is a residential segment part of the Vasanta Eco Town township developed by PT Pakuan Tbk. Built on a green open space area of 102 Ha, surrounded by natural scenery and directly leading to a 26 Ha lake. Collaborating with PT Diamond Development Sawangan (DDS), a subsidiary of Mitsubishi Corporation, Japan, PT Pakuan Tbk launched clusters The Grove in June 2021 and Tilia in January 2022. Residents at Shila at Sawangan are equipped with top class facilities ranging from sports facilities to exclusive facilities that support a modern lifestyle.
After selling its first two clusters, The Grove, which will be handed over in December 2022, and Tilia, which held groundbreaking event in October 2022, Shila at Sawangan presents a collection of premium lakeside residential clusters, namely the "Lake Series" in September 2022 which consists of the two main residential clusters Lake Vista and Laguna.
Located in a strategic area, Shila at Sawangan connects two main roads, namely Jalan Raya Bojongsari and Jalan Raya Muchtar which are national roads and important access links between Bogor and Tangerang, and can be accessed easily via JORR 2 Toll Road, Cijago Toll Road (Cinere-Jagorawi), and Desari Toll Road (Depok-Antasari) via Sawangan Toll Gate.
Vasanta Eco Town also presents commercial area such as The Shoppes at Senopati Boulevard, a 2 km long shopping street, and a 9 m wide pedestrian street. The construction of this commercial area is ongoing and will start operating in the 1st quarter of 2023, which currently has more than 20 well-known tenants who will enliven the shopping street as the first in South Jakarta. Besides that, there is Marche, a smart modern market, and the Telaga Seafood restaurant to complement the lifestyle needs of the residents.
About PT Diamond Development Sawangan
PT Diamond Development Sawangan (DDS), is a subsidiary of Mitsubishi Corporation, which especially dedicated to invests and develops Shila at Sawangan through partnership with PT Pakuan Tbk. Mitsubishi Corporation is an integrated global company that conducts various activities through branch offices and subsidiaries in 90 countries around the world and collaborates with approximately 1,700 group companies.
Mitsubishi Corporation is involved in a wide range of industries, including natural gas, industrial materials, oil and gas, coal mining, infrastructure, automotive, food and beverage industries, power companies, and urban development. Through 10 business groups, Mitsubishi Corporation is now expanding beyond the traditional business into the real estate development industry, manufacturers, and manufacturing operators, working and collaborating with leading partners worldwide.
Mitsubishi Corporation is committed to conducting its business with integrity and equity, and to its continued development and contribution to the well-being of society. Mitsubishi Corporation is known for various projects around the world, including in Southeast Asia, such as Portico Residential project in Philippines, the Grand Park Residential Project in Vietnam and the ZORA Project in BSD City, Indonesia.
Media Contacts:
Nurul Delia Rachmaputri
Marketing Communications – PT Pakuan Tbk
085777378172 – nurul.delia@ptpakuan.com
Layaknya Resort di Selatan Jakarta, Shila at Sawangan Hadirkan Hunian Premium Tepi Danau dengan 30 Fasilitas Eksklusif
Mulai hari Anda dengan lari pagi di Lakeside Walk sepanjang 1,6 km sambil menghirup sejuknya udara sekitar dimana Anda dapat langsung melihat pemandangan creek yang tenang dan area hijau luas, atau undang teman terdekat Anda untuk berpesta barbeque saat weekend dengan view danau. Memancing ikan di tengah danau alami seluas 26 Ha untuk melepaskan penat saat libur juga dapat Anda lakukan dengan menggunakan perahu yang telah disediakan di Boat Dock. Inilah beberapa gambaran yang akan Anda dapatkan jika tinggal di "Lake Series"Shila at Sawangan lengkap dengan 30 fasilitas eksklusif.
Selain menikmati pemandangan hijau, Lake Series menawarkan Anda pengalaman berbeda untuk melakukan berbagai aktivitas, seperti berolahraga di area Outdoor Gym, Fitness Corner, dan Yoga Deck. Bagi pecinta olahraga tenis dan golf, terdapat Sunken Sports Court yang didesain lebih rendah dari permukaan jalan, sehingga memberikan privasi, dan Putting Green (mini golf) yang juga berada di tepi danau, serta masih banyak fasilitas eksklusif lainnya.
Direktur PT Pakuan Tbk Denny Asalim menjelaskan, "Hadirnya beragam fasilitas eksklusif ini kami harapkan dapat memberikan kenyamanan dan kualitas hidup yang lebih baik di setiap jenjang usia. Lake Series mendukung terwujudnya kehidupan yang sehat, interaksi sosial yang hangat, dan aktivitas yang menyenangkan bagi penghuninya,"
"Fokus utama kami adalah memberikan kenyamanan ekstra bagi penghuni, termasuk memastikan dan menjaga fasilitas di Lake Series berkualitas tinggi. Kami yakin Lake Series akan memenuhi kebutuhan modern lifestyle dimana Anda bersama keluarga tercinta dapat merasakan pengalaman tinggal di hunian premium tepi danau," ujar Kenji Ono selaku Presiden Direktur PT Diamond Development Sawangan.
Lake Series akan menjadi sebuah hunian ikonik tepi danau di Selatan Jakarta. Tidak tanggung-tanggung, Lake Series menghadirkan 5 tipe produk sekaligus yang berada di cluster Lake Vista dan Laguna yang setiap huniannya dilengkapi pemandangan danau (lake view). Cluster Lake Vista terdiri dari 3 tipe unit Portico, Tudor, dan Pavilion. Sedangkan Laguna, terdiri dari 2 tipe unit, yakni Veranda dan Mondrian.

Portico Lake Series
Portico merupakan tipe eksklusif yang hanya tersedia 39 unit dan memiliki akses langsung ke tepi danau dari halaman belakang rumah. Rumah tiga lantai ini memiliki 4 kamar tidur, 4 kamar mandi, dan 2 carport dilengkapi dengan rooftop area yang cocok sebagai tempat berkumpul dan bersantai bersama keluarga.
Tudor
Tudor merupakan rumah dengan premium specification yang didesain unik layaknya villa karena akses masuknya langsung menuju lantai 2. Memiliki 3 lantai, di dalamnya terdapat 4 kamar tidur, 4 kamar mandi, 2 carport, 2 living rooms, serta outdoor area yang luas di halaman belakang rumah membuat rumah menjadi luas dan megah.
Pavilion
Pavilion adalah rumah minimalis dengan 4 kamar tidur, 3 kamar mandi, dan 2 carport. Tipe ini dilengkapi dengan premium finishing material sehingga menciptakan kesan rumah mewah. Tipe rumah ini berkonsep green architecture, memiliki ruang kosong terbuka (void) berupa inner courtyard yang memberikan sirkulasi udara segar dan pencahayaan alami.
Veranda
Veranda merupakan salah satu tipe rumah di cluster Laguna. Memiliki 3 kamar tidur, 3 kamar mandi, 2 carport dan rooftop area untuk menikmati pemandangan luar yang indah dari dalam rumah. Rumah ini juga memiliki indoor dan outdoor living space dengan elemen natural yang dapat mendukung healthy lifestyle Anda.
Mondrian
Mondrian berdesain unik karena memiliki 4 Meter Length Panoramic View, yakni panorama alam indah yang dapat dilihat dan dirasakan dari dalam ruangan menjadikan rumah terlihat lebih luas dan menyatu dengan alam. Memiliki 3 kamar tidur, 3 kamar mandi, dan 2 carport, serta terdapat 5 Meter Ceiling Height yang menambah estetika ruangan dan membuat Anda merasakan suasana yang tenang, relaks dan nyaman.
Kedua cluster ini akan segera membuka rumah contoh/show unit-nya pada November 2022 di Shila at Sawangan. Jangan lewatkan kesempatan untuk mendapatkan rumah impian Anda di "Lake Series" Shila at Sawangan.

About Shila at Sawangan
Shila at Sawangan merupakan segmen residensial bagian dari township Vasanta Eco Town yang dikembangkan oleh PT Pakuan Tbk bersama PT Diamond Development Sawangan (DDS), anak perusahaan Mitsubishi Corporation, Jepang. Dibangun di atas lahan ruang terbuka hijau seluas 102 Ha yang dikelilingi dengan pepohonan rindang dan pemandangan alamlangsung menuju danau seluas 26 Ha. Hunian di Shila at Sawangan dilengkapi dengan fasilitas berkelas mulai dari fasilitas olahraga hingga fasilitas eksklusif yang mendukung modern lifestyle.
Setelah terjual dua cluster perdananya The Grove yang akan serah terima pada Desember 2022 dan Tilia yang telah groundbreaking pada Oktober 2022, Shila at Sawangan menghadirkan koleksi cluster hunian premium tepi danau yakni "Lake Series" yang terdiri dari dua cluster residensial utama, Lake Vista dan Laguna.
Berada di kawasan strategis, Shila at Sawangan menghubungkan dua jalan utama, yakni Jalan Raya Bojongsari dan Jalan Raya Muchtar yang merupakan jalan nasional dan akses penting yang menghubungkan Bogor dan Tangerang, serta dapat diakses dengan mudah melalui Tol JORR 2, Tol Cijago (Cinere-Jagorawi), dan Tol Desari (Depok-Antasari) via pintu Tol Sawangan.
Vasanta Eco Town juga menghadirkan area komersial, seperti The Shoppes at Senopati Boulevard, shopping street sepanjang 2 km dan pedestrian street seluas 9 m. Pembangunan area komersial ini sedang berlangsung dan akan mulai beroperasi pada kuartal 1 2023 yang nantinya akan hadir lebih dari 20 tenant brand besar untuk meramaikan Senopati Boulevard. Di samping itu, terdapat Marche, smart modern market, dan restoran Telaga Seafood untuk melengkapi kebutuhan gaya hidup penghuni.
Tentang PT Diamond Development Sawangan (DDS)
PT Diamond Development Sawangan (DDS) adalah anak perusahaan Mitsubishi Corporation yang berdedikasi khusus untuk berinvestasi dan mengembangkan proyek Shila at Sawangan melalui kemitraan dengan PT Pakuan Tbk. Mitsubishi Corporation adalah perusahaan global yang terintegrasi dan menjalankan berbagai bisnis melalui banyak kantor dan anak perusahaan yang tersebar di 90 negara dari seluruh dunia, dengan koneksi global sekitar 1.700 grup perusahaan.
Mitsubishi Corporation memiliki 10 kelompok usaha yang beroperasi di hampir setiap industri: gas alam, bahan industri, minyak dan gas, pertambangan batu bara, infrastruktur, otomotif, industri makanan dan minuman, perusahaan listrik, dan pembangunan perkotaan. Melalui 10 grup bisnis ini, Mitsubishi Corporation saat ini berkembang melampaui bisnis tradisional dan terjun ke industri pengembangan properti, produsen, operatormanufaktur, bekerja dan berkolaborasi dengan beragammitra terkemuka dari seluruh dunia.
Dengan komitmen untuk menjalankan bisnis dengan integritas dan kesetaraan, Mitsubishi Corporation berdedikasi untuk terus berkembang dan berkontribusi bagi kesejahteraan masyarakat. Mitsubishi Corporation tercatat memiliki berbagai proyek yang tersebar di seluruh dunia termasuk Asia Tenggara, seperti Portico Residential Project di Filipina, the Grand Park Residential di Vietnam, dan The ZORA di BSD City, Indonesia.
Media Contact:
Nurul Delia Rachmaputri
Marketing Communications – PT Pakuan Tbk
085777378172 – nurul.delia@ptpakuan.com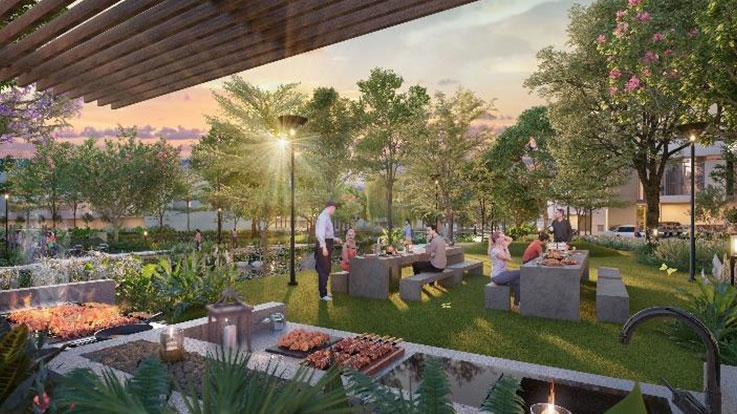 2 International Barbecue Area (Brazilian and Korean)